Our First Service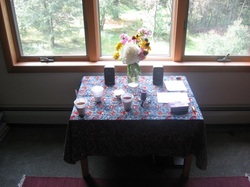 We held our first service on September 11, 2011. It was a sunny, warm, beautiful Sunday morning, but the mood was somewhat somber on the 10th anniversary of the heinous attacks. Our lay minister, Ian, downloaded a very pertinent sermon from the web site of the Church of the Larger Fellowship, the UU e-congregation. We had opening words, meditation, joys & concerns, followed by the sermon and closing words (a prototype for services to come, though we have changed the order of the joys & concerns and meditation, and added music). Afterward, we had a nice, potluck, coffee hour and a walk outdoors on Ian and Nadia's lovely trails.
---
Flower Communion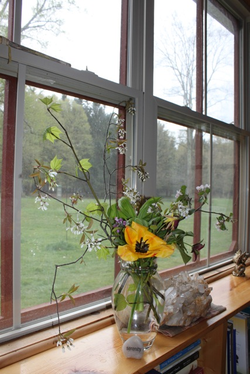 On Sunday, April 22, 2012, we held our first Flower Communion, directed by Ian. This service was created in 1923 by Norbert Capek, a Unitarian minister in Czechoslovakia who was later killed in a Nazi concentration camp during World War II. During the service, each person placed a flower of his/her choice in a common vase. Together, the flowers formed a beautiful bouquet that would not be the same without the unique addition of each individual one.

Just as no two flowers are alike, so no two people are alike, yet each has a contribution to make to the community. So too, church community would not be the same without the gifts of each member. At the end of the service, people went to the vase and took away a different flower from the one that they had brought.

Musical selections were played by Paul on his accordion and included "Oh, Give Us Pleasure In the Flowers Today", "Spring Has Now Unwrapped the Flowers", "April Showers", "Oh, What a Beautiful Mornin", and "De Colores."


---
Camden Field Days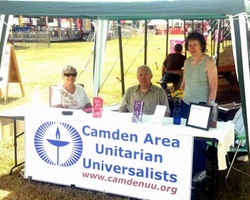 On Saturday, July 28, 2012, Camden Area Unitarian Universalists had a booth at the Camden Volunteer Firemen's Field Days where we were able to meet some new people and even entice a few to try out our congregation. Thanks to Terry, one of our newer congregants, for driving our effort to be at the Field Days, for getting our banner and rack cards printed, and for getting us registered for the event. Meeting new potential members made it all worth while! One married couple, Beth and Darren, met our members there and have recently joined and even more recently, another married couple, Jane and Paul, joined our congregation.
---
Water Communion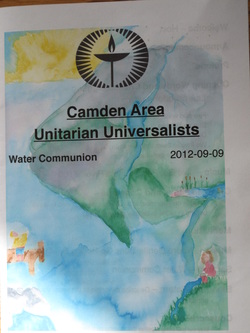 On Sunday, the 9th of September, 2012, we held our first Water Communion service. Each participant brought water that was significant to her/him and described its significance before adding it to a common vessel. Ian delivered a sermon about the connection between liberty, peace, and justice, and how looking at others in terms of similarities rather than differences can bring about greater communion of all peoples (UU Sixth Principle).

The first Water Ritual was held at the November 1980 Women and Religion Continental Convocation of Unitarian Universalists in East Lansing, Michigan. Created by activist Carolyn McDade and UU leader Lucile Schuck Longview "as a way for women who lived far apart to connect the work each was doing locally to the whole", it has come to be used as an ingathering/homecoming ritual for UU congregations.


​​
---
Fire Communion